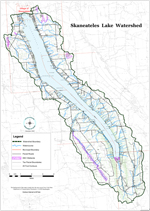 The Skaneateles Lake watershed lies within five towns and three counties. Only a fraction of each town lies within the watershed bounds. As you can see by the map, the watershed is small, due to the steep hills surrounding the lake. The Department of Environmental Conservation (DEC) originally banned high volume hydrofracking within the Skaneateles watershed and also 4000 feet beyond those bounds.
However, that would have been scant protection for the integrity of the lake. Though such a limited ban would have resulted in no high volume drilling in that watershed and 4000 feet beyond those boundaries there could still have been truck traffic hauling the chemicals, and the millions of gallons of toxic waste from nearby wells.
Fracking outside the boundaries of the area which the DEC originally defined as banned to hydrofracking would still have resulted in downwind air pollution effects from dozens of chemicals that outgas on a daily basis from the compressor stations and condensate tanks –a requisite for the lives of the wells. Those chemicals could settle wherever the wind takes them. Those effects would not have been legislated out of the watershed by the original ban defined by the DEC.
As for water contamination – most of the incidents happen at or near the surface, not thousands of feet below so the risk of water contamination would still have been real because our watershed and our state – is a web of surface water – springs, creeks, streams, ponds, wetlands – all exquisitely vulnerable to surface incidents. The underground aquifers are shallow and unmapped. There are thirty thousand abandoned undocumented gas wells in NYS – how many in the watershed towns? That number is anyone's guess. Add to that abandoned water wells and naturally occurring fractures in the bedrock and we would have a recipe for contamination with any spill, cement casing failure, or accident. Routes 41 and 41A as well as route 20 are major thoroughfares. Our risk of water contamination would still have been very real even if the ban on hydrofracking had been limited to the area originally defined by the DEC..
This is why the December 2014 DEC and Department of Health Ban on Hydrofracking in NYS is so important and why we must work to ensure that ban stays in place.