SHARE YOUR GOOD NATURE ON SKANEATELES LAKE WITH iNATURALIST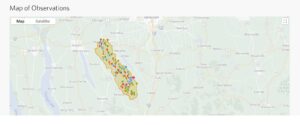 What is iNaturalist? 
iNaturalist allows users to better understand flora and fauna in our local watershed ecosystem. The app provides an easy and interactive way to learn about ourliving community while learning about native versus invasive species in the area. As SLA and community partners work to improve the Skaneateles Lake Watershed, observations submitted to iNaturalist can help establish a baseline of what we have now and help measure progress for how increasing native plantings can help with capturing nutrients that are known to feed Harmful Algal Blooms.
"Some say you don't know what you have until its gone, but we won't know what to protect from being gone without knowing what we have." – Frank Moses, SLA Executive Director
How can you help?
The community's ability to better understand the diversity of species in the watershed will be advanced by the number of participants submitting observations. Please consider downloading onto your smart device with on of the links below. Once the app is downloaded, you can create a profile and join the SLA's Skaneateles Lake Watershed Project. The project folder presents observations from other community members and provides a geotag map of sighting locations. In order to join the project, you must:
Download iNaturalist onto your smartphone device
Create a new profile

Under the 'Community' Tab, click 'Projects'

In the search box, type: "Skaneateles Lake Watershed" 

From there, you can view the dashboard displaying the observations, species, and other observers
Baselining your backyard
Submitting observations from your own home facilitates the SLA's and community partners efforts to better account for native species while addressing certain invasive species like Hemlock Woolly Adelgid that kill Eastern Hemlock trees. To learn more about submitting an observation, click the link below to access the iNaturalist tutorials:
Switching to native plants
Planting native plant species and increasing vegetation on your property will promote the ecological success of the entire system. You can purchase and find information on native plants through the Habitat Gardeners of CNY Webpage copied below. Through the website, you can access the Shopping Guide to find native vegetation in our area. Specific to the Skaneateles Lake Watershed residents, you can consider reducing your carbon footprint by selecting native plants from Go Native! Perennials.