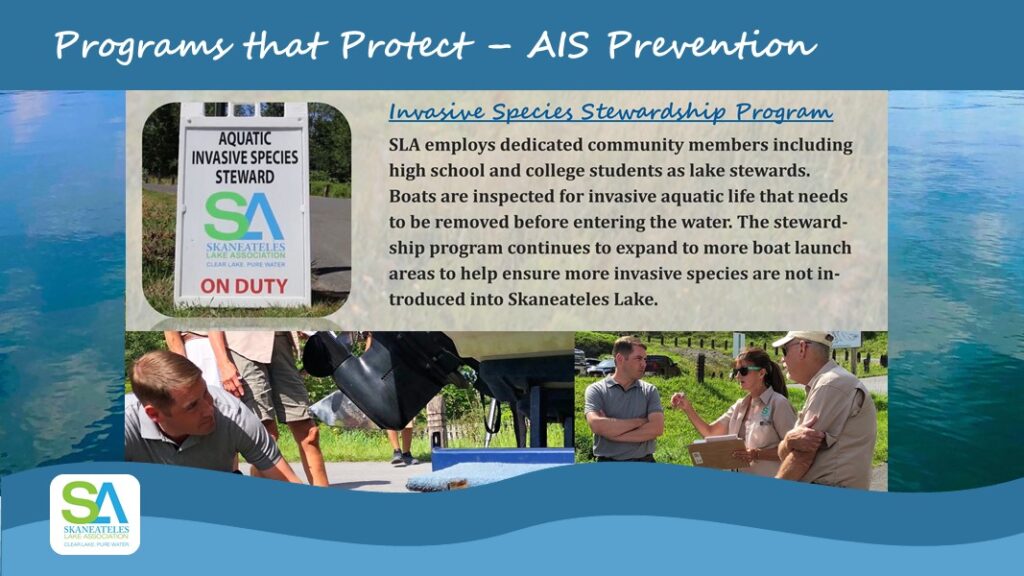 Aquatic Invasive Species Prevention Program
The proliferation of Aquatic Invasive Species (AIS) has become a critical threat to water quality and quality of life regionally.  AIS are non-indigenous species that harm the environment, economy, and/or human health.  Since 2007, the SLA has worked to control the spread of Eurasian Watermilfoil to limit its overall impacts on the Lake.  During this period, the SLA has spent over $2M on its milfoil program, and costs continue to increase each year. Read more on the Milfoil Project by clicking HERE.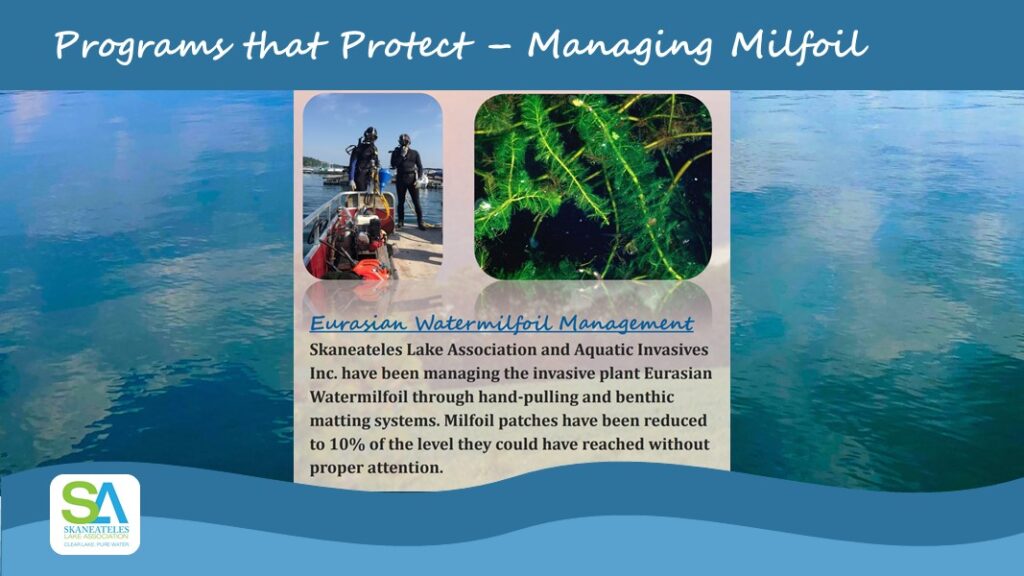 The other known AIS in Skaneateles Lake are Curly-Leaf Pondweed, Scuds, Starry Stonewort, Viral Hemorrhagic Septicemia, and Zebra and Quagga Mussels. Zebra and Quagga Mussels have garnered particular attention among researchers because of their suspected relationship in contributing to the outbreak of Harmful Algal Blooms ("HAB").  These mussels likely impact on Skaneateles Lake's drinking water and overall water quality was unforeseen when they first invaded the Lake in the mid-1990s.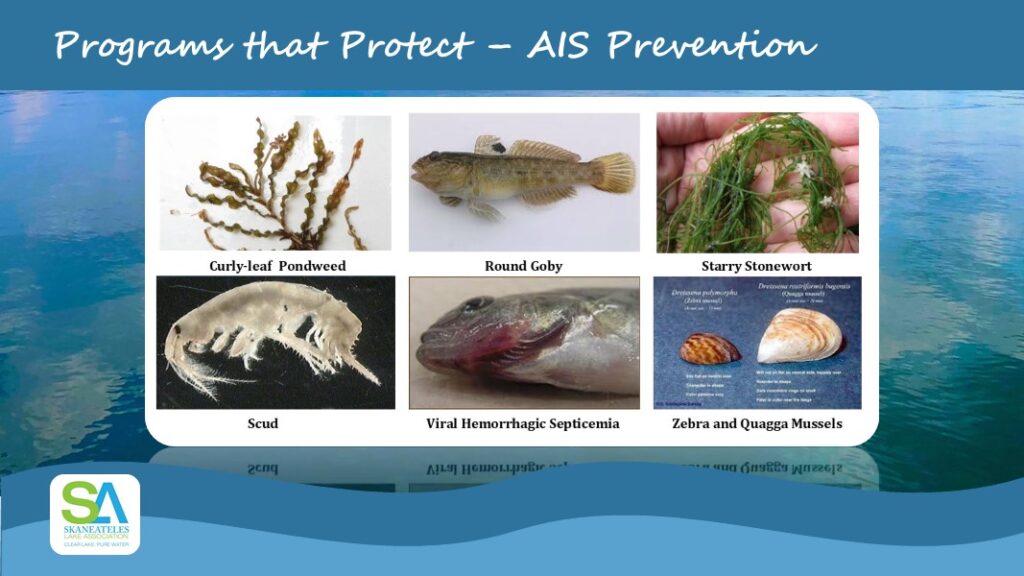 If current populations of AIS go unchecked and new species are introduced, the negative impacts of AIS on Skaneateles Lake will increase dramatically.
Over 180 other AIS can be found in the Great Lakes just 40 miles away. New AIS have made their way into neighboring water bodies.  For example,  Cayuga Lake is currently managing the overwhelming and costly impact of Hydrilla.
Hydrilla is an aggressive aquatic plant, first found on Cayuga Lake near Ithaca in early August 2011.  Tompkins County, with input from national experts on Hydrilla and local resource managers/stewards, historically has managed Hydrilla.  The County first used hand-removal and benthic barriers.  When that proved unsuccessful, the County began applying herbicides. In  2019, the Army Corps of Engineers took over the management of Hydrilla on Cayuga Lake.
As of 2020, the costs for managing Hydrilla on Cayuga Lake since its introduction have exceeded $3M, with a current annual operations and maintenance costs of over $350,000.
It is becoming alarmingly more apparent that large well-established macrophytes, such as Hydrilla, can contribute significantly to phosphorus loading to a lake as the macrophytes die off naturally or by human action,
If Hydrilla finds its way into Skaneateles Lake, together with the existing milfoil and pondweed "biomass", an increase in water turbidity and phosphorus release might occur, contributing to HAB activity.  Additional AIS would create additional management challenges related to the retention of the City of Syracuse's filtration avoidance waiver.
Once AIS finds their way into a waterbody, they are virtually impossible to eliminate and extremely expensive to manage, with, at best, mixed results.  With considerable ecological costs from a single AIS (Hydrilla) found two lakes west of Skaneateles, it is imperative that there is support for "an ounce of prevention", before the community takes on the expense related to the "pound of cure".
CURRENT EFFORTS TO PREVENT THE INTRODUCTION OF ADDITIONAL AIS
In August 2012, SLA instituted an Invasive Species Prevention Program.  Monitoring stewards were positioned at the New York State DEC Boat Launch on West Lake Road and the Skaneateles Town Boat Launch in Mandana.  Currently, in the 10th year of the program, the boat stewards cover 3 out of the 7 active launch sites on Skaneateles Lake. This program has expanded annually under the directorship of SLA Board member and volunteer Dr. Buzz Roberts and over the years has become a model for other lakes in the region.
The stewards hired for the boating season are primarily high school and college students who receive training where they are familiarized with invasive species found in Skaneateles Lake and others that are potential invaders from other water bodies.   Their duties include asking permission from boaters to allow them to visually inspect the exterior of their watercrafts and trailers for any attached marine life. Any vegetation is then removed. Most boaters allow inspections, but there have been instances where boaters, from other waterbodies with AIS, have disregarded the stewards' requests to inspect and went ahead with launching. The stewards also educate recreational boaters and fishermen on the value of launching a clean, drained, and dry boat. The stewards then record data on each boat as part of the New York State Watercraft Inspection Steward Program Application (WISPA).