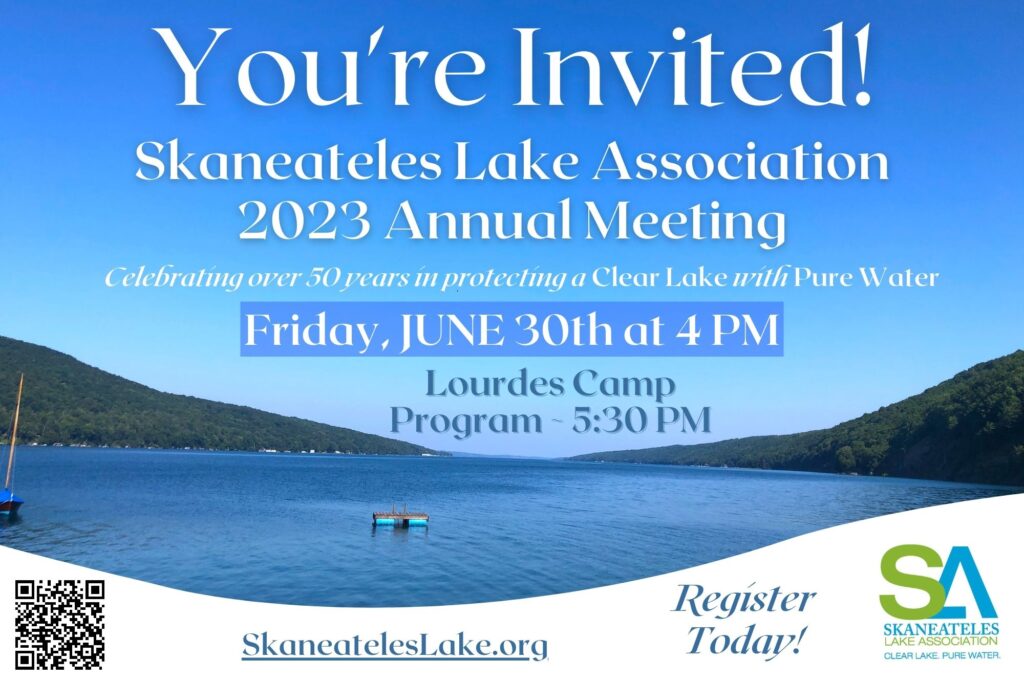 SLA 2023 Annual Meeting Registration
PROGRAM TO INCLUDE SLA TEAM PROVIDING
BRIEF UPDATES & ANNOUNCEMENTS
Welcome & Opening Remarks 
Board President Dr. Paul Torrisi
Membership & Legacy Funds 
Board Treasurer Rich Hole
Community Outreach & Education 
Committee Chair Dr. Jim Tifft
Research & Monitoring 
Science Advisors Drs. Charley Driscoll & Neil Murphy
Invasive Species Prevention & Management  
Board VP & Lake Ecology Team Co-Chair Dr. Buzz Roberts
Watershed Improvement Projects
Committee Chair Dr. Dana Hall
The Dr. Robert Werner Research & Education Boat "The Bob"
Lake Ecology Team Co-Chair Dr. Bill Dean
Check our current memberships on our website – SkaneatelesLake.org under the "membership/support tab" for a particular person/family/business that you think should be members and if you do not see them listed
Reach out to them using the printable potential member questionnaire and member registration documents linked and share with them the importance of membership including:

 financial support of all the SLA efforts to keep the Lake clear and the water pure,
ongoing announcements of pertinent and urgent issues and educational programs &
increasing the volume of the SLA's member voice with governmental agencies, municipalities and other organizations that the SLA turns to for support of issues and programs or financial support.
Encourage them to join the SLA. – online link to join as a new member can be found HERE.