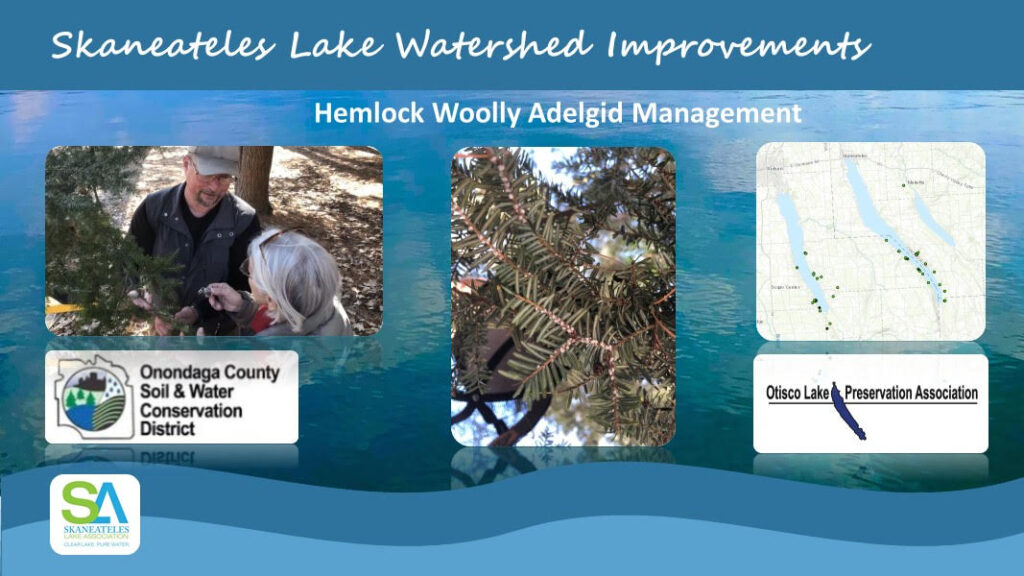 Saving Skaneateles Lake's Hemlock Heritage
The late Skaneateles Lake Ecologist, Dr. Robert G. Werner said in the 1970's that "If we lose the Hemlocks, we lose the Lake".   Eastern Hemlock (Hemlocks) trees are the best natural steep ravine solution to helping reduce nutrient loading into Skaneateles Lake. Their ability to establish root systems on steep slopes and help keep stream and thus lake temperatures lower is in high demand now that Harmful Algal Blooms (HABs) are of major concern. HABs and the toxins they can produce thrive in warmer nutrient rich waters.
More recently, SLA members like the late Bob Duckett, Ron & Roseanne Gaye, Steve Kinne and the CNY HWA Hunters, the NYS Hemlock Initiative, and the Cornell Cooperative Extension helped bring to light the threat of Hemlock Woolly Adelgid (HWA) that is infiltrating Skaneateles Lake's Hemlock trees from the south.
The City of Syracuse is currently working with Cornell University's NYS Hemlock Initiative on the southwest side of Skaneateles on researching the possibility of using natural predators like the silver fly that exclusively eat HWA and have the potential of keeping populations in check. While waiting for results on this research, some private landowners have taken it on themselves to treat Hemlock trees for HWA. The current common and preferred method is basal bark treatment that is isolated to the individually treated trees to help avoid having the treatment enter the soil and water table.
With the spread of HWA surmounting from the south, the Skaneateles Lake Association (SLA) approached Onondaga County Soil & Water Conservation District (OCSWCD) to apply for a grant through the Great Lakes Restoration Initiative. Both SLA's Legacy Fund and the Otisco Lake Preservation Association provided support to OCSWCD to submit a grant application that was approved for $50,000.00. Read Full Press Release with contact for more information HERE.
The funds received will support continued surveying and treatment of HWA over two years in the Skaneateles and Otisco Lake Watersheds. Funding will help treat approximately 1500 Hemlock trees, which will not be enough to thwart this fast developing threat. SLA is surveying our watershed community to identify who may have large stands of Hemlocks on their properties along stream banks and would be willing to learn more about looking for HWA or allowing volunteers to survey. Additionally for properties with HWA, SLA is looking to gather information on who would be willing to explore treatment of Hemlocks. Please connect with SLA if you are interested by sending an email via the SLA Contact Us Link.
Other resources:
How to Identify Eastern Hemlock Trees – YouTube Video
imapinvasives site to look up where HWA is present on Skaneateles Lake