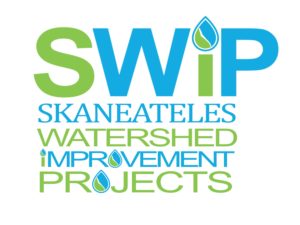 The Skaneateles Watershed Improvement Projects (SWIP) are an effort through the Skaneateles Lake Association to work with Skaneateles Lake watershed landowners to implement projects that would help maintain lake water quality by reducing nutrients entering into the lake.  This initiative is supported through community partnerships and the Legacy Fund.
ONE OF A KIND WATERSHED IMPROVEMENT PROJECT
SHOWCASED ON SKANEATELES LAKE
Skaneateles Lake Association in cooperation with the Skaneateles Country Club, The Nature Conservancy, US Fish & Wildlife Service, SUNY-ESF, and Anchor QEA Engineers celebrate stream enhancement project
October 19, 2021 – SKANEATELES, NY – The Skaneateles Lake Association (SLA) co-hosted a ceremonial planting event today with the Skaneateles Country Club (SCC) and project partners involved in making improvements to Dowling Creek, a tributary to Skaneateles Lake. The planting event was a celebration in supporting lake protection through the stream project that included The Nature Conservancy, the US Fish & Wildlife Service, Anchor QEA Engineers, and SUNY-ESF. READ FULL PRESS RELEASE HERE
If you have any questions regarding the program or a SWIP site,
please click HERE to contact the Skaneateles Lake Association today.