Al's Place….A Shelter for the SLA Stewards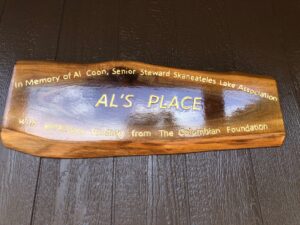 Fran Rotunno Fish
Alfred Coon was the Town of Scott Fuller Park Ranger when SLA President Paul Torris…i and SLA Board Member Buzz Roberts who is in charge of the SLA's Invasive Species Monitoring Program first met at Fuller Park.  Al was quick to point out to Paul and Buzz that while it was great that we had Stewards at the Park help ensure that boats and trailers were not carrying any invasive species that we were missing a lot of boats.  He noted that our Steward came on duty at 8 am, but the fishing boats were arriving much earlier.
Paul and Buzz, noting that Al lived just about on top of Fuller Park were quick to ask Al if he would like to be one of our Stewards.  All agreed and became our first Senior Steward.  Al had long been a steward of the lake he loved; indeed, he was a guardian of the lake.  His commitment to his role as an Invasive Species Monitoring Steward came to set a standard for our high school and college students and lead to the SLA expanding our use of "senior" stewards
Al's passing a year and a half ago was a loss to the SLA and our program, but his legacy of commitment to protecting the lake from invasive species and doing his job 100% set a standard that has had a lasting impact on all of our SLA Stewards and one that is shared as new Stewards join our program.
The SLA wanted to honor Al in a special way that would encourage the memory of him and his standard for performing his job and we were assisted with a generous donation from the Columbian Foundation which has funded other SLA purchases in the past.
The Fuller Park Launch in the Town of Scott had no shelter for our Stewards who are there rain or shine in both hot and cold weather.  There was no shelter for them in unpleasant weather and no place to store their supplies, rain gear, lunch, etc.
like the one at the NYS DEC Boar Launch in Skaneateles and the Board determined that it could be our tribute to Al Coon.
A beautiful black walnut sign was crafted by Tim Johnson, Environmental Scientist with Anchor QEA and Skaneateles resident, who is working with SLA's Lake Ecology Team in helping to identify and design watershed restoration and remediation to better control nutrient runoff and prevent Harmful Algal Blooms (HABs).   The sign was crafted from wood from Tim's family farm with the following inscription "Al's Place.  In memory of Al Coon, Senior Steward Skaneateles Lake Association with generous funding from the Columbian Foundation."
We unveiled the sign hanging on the shed on Tuesday, July 21.  We were pleased to have  Al's wife, Nancy; Town Board Member, Andrew Fuller who donated the funds for the park and its maintenance; Columbian Foundation Board Members David Graham and Susan Cox and a group of Al's friends and neighbors in attendance along with  SLA Board President Paul Torrisi and Board members Buzz Roberts and Fran Fish; SLA Executive director, Frank Moses, some of our SLA Stewards; and the sign's creator,, Tim Johnson..
Right now residents of the Skaneateles Lake Watershed Community and all who benefit from the lake as a drinking water source, a place for recreation or a promotion of business can join us in honoring Al in several was:  become a member of the  SLA;  sponsor a Steward for a day in Al's memory; and take our Lake Friendly Land Care Pledge and request a Lake Friendly Land Care sign on your property.
You can do all of these things online at SkaneatelesLake.org or call 315-558-3142 for assistance to do so.
We thank the following for supporting a Steward for a day:  Gwen Birchenough, Marvin & Patti Longley, John & Susan Solomon, David & Jacqueline Eng, Jayne Howard, James & Emily Johnson, Julie Abbot Kenan, Linda Ahern, Bill & Jane Cummings, Paul & Joy Charmandy, Margot McCormack, William & Sandra Nichols, Kristopher Scholl, Ian & Kary Raddant, James & Nancy Marquardt, David & Joyce Larrison, Gianfranco & Johanna Frittelli, Dennis & Ashby Longwell, John Macallister & Laurel Moranz, Bill & Jen Warning, James & Racquel Vlassis, Barbara Egtvedt, Bruce & Patti Texeira, Ann Hinchcliff, Ann Killian, John & Wendy Kopley, Robert & Christine Pierce, Cate & Sally, Neil & Alice Houser, and 2 Anonymous Donors.
We thank the following for contributions to the David Lee Hardy Fund which provides support to our Invasive Species Monitoring Stewards Program:  David &  Fagliarone, Gwen Birchenough, Jeffrey Stregiel, Clayton Theisen, Judd Seales, Christ & Cathi Pickney, John & Frances McNerney, Richard Lynch, Richard & Janice Wiles, Donald Babcock & Caroline Kaye, William & Sandra Nichols, Kristopher Scholl, Doug & Bev Smith, Janice Hardy, F. J. Estlinbaum Barge & Crane, Jim & Sharon O'Connell, Kimball Clark, Francine Devitt, John Macallister & Laurel Moranz, Robert Warfield, Patty Orr, Lois Exner, Jim & Patti Hertz, Chris Johnson & Jean Shook, Gregory Kenian & Mary Ellen Faughnan, Craig & Rhonda Richards, Paula White, Joseph & Catherine Compagni