News from the Skaneateles Lake Association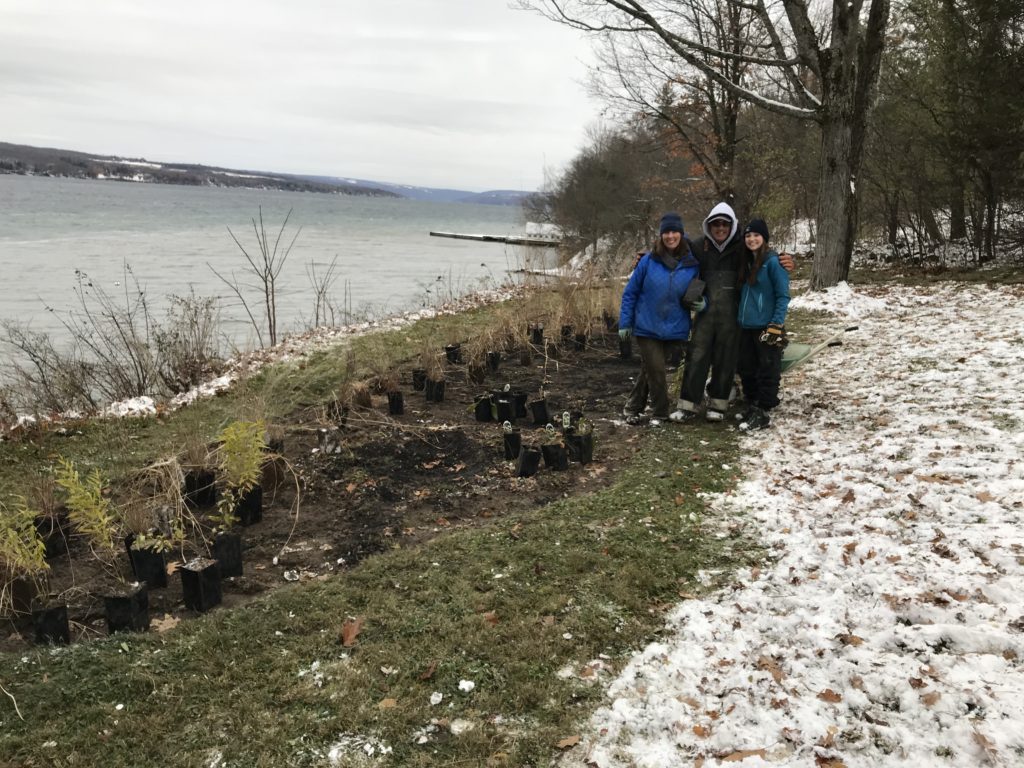 Trees for Tribs: Riparian Buffer Planting
Rachael DeWitt, Executive Director, Skaneateles Lake Association
Back in October the Skaneateles Lake Association, Cornell Cooperative Extension, Town of Skaneateles, and City of Syracuse hosted a Landscaping for Water Quality forum. At this forum, the audience learned how to landscape and garden their properties with water quality in mind. We had several excellent speakers present and many wonderful organizations/businesses table at this event to guide attendees on how to "shorescape" (landscape along the shore), garden with native plants, and educate the audience about New York State's Nutrient Law. One of the major takeaways from this forum was the need for riparian buffers along streams and lake front property. Riparian Buffers stabilize banks, control erosion, slow runoff, and filter nutrients out of runoff before the water enters our tributaries and lake.
However, it is not enough just to talk about riparian buffers, they need to be constructed. As result of a partnership between Cornell Cooperative Extension Onondaga, the City of Syracuse, Onondaga Soil and Water Conservation District, and the Skaneateles Lake Association, on November 15th and 19th riparian buffer was constructed at a lakeside home. If you are a local, then you are well aware of the amount of snow that was present on both of these dates. The original planting date even had to be postponed due to all the snow. Dedicated volunteers, members, and employees of these organizations worked tirelessly in inhospitable conditions to get this project finished.
On November 15th the site was prepped, this process included sod removal, staking out planting locations, and going over the process of the project including site design to species selection. On November 19th, with the support of dedicated volunteers and two hospitable homeowners, over 150 riparian native grasses, native perennials, shrubs, and 1 tree were planted on November 15th.
The goal of this pilot project was to increase riparian buffers on private properties and reduce nonpoint source pollution to Skaneateles Lake through education and community based plantings. This is the first of several riparian buffers projects that will be constructed under the Trees for Tribs program. If you are interested having a riparian buffer constructed on your property, please email us at skanlakeassoc@att.net or email Shannon Fabiani at slf226@cornell.edu.
We'd like to extend a huge thank you to our project partners at Cornell Cooperative Extension (especially Shannon Fabiani), Onondaga County Soil and Water, White Oak Nursery, The Nature Conservancy, The City of Syracuse and all the volunteers for working tirelessly to protect our lake and for being a part of this service learning stewardship project. When the weather gets warmer, keep an eye out for future riparian buffer construction projects in our watershed. We hope you will consider volunteering and getting your hands dirty for the protection of our lake.
We thank the following individuals for sponsoring the Milfoil Boat for a day or multiple days: Karen & Paul Black,  Nancy & Ted Norman, David Graham, Linda & Dan Roche.
We thank the following individuals and organizations for co-sponsoring the Milfoil Boat for a day or multiple days: Leanne & David Willard, John Rizzo, Racquel & James Vlassis, Jack Rudnick, Skaneateles Rotary Foundation. Eileen Murphy & CJ Ryan.
Our steward program received special support from: Benjamin Lowery & Maura Swan, Susan Mark & Mary Knepper, Joyce & David Larrison.  Thank you to them.
We are grateful to those who continue to support the David Lee Hardy Fund established by his family to also support our steward program.  Thank you to MB & Jeff Bronk, Joseph Reagan, Joyce & David Larrison, and Lynda & John Parsons.
You cansupport the SLA and give applause to all of its volunteers by joining the SLAtoday!  You can join online atSkaneatelesLake.org or, better yet, save us the 3% PayPal or credit card feeand mail your check to the SLA (P. O. Box 862 Skaneateles, NY 13152) or call315-685-9106 and ask for a Member Registration Form and return envelope to bemailed to you.
Source:  Skaneateles Press